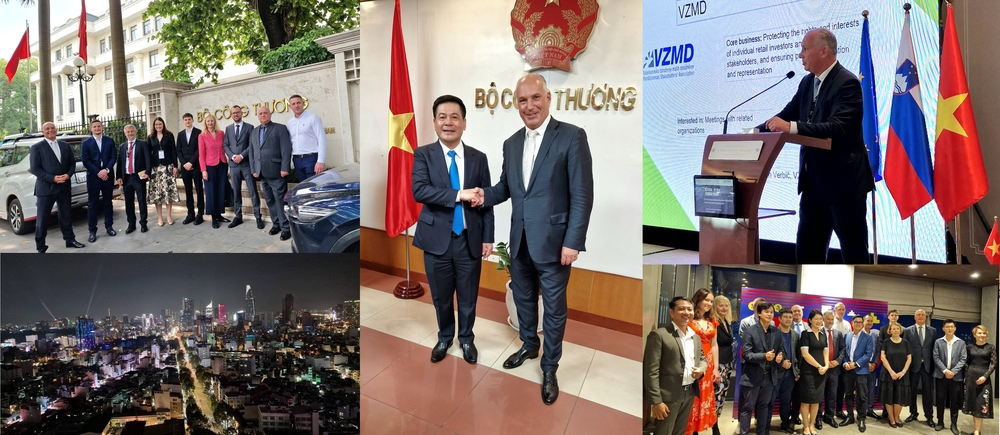 The Slovenian economic delegation accompanying the Deputy Prime Minister of the Republic of Slovenia and Minister of Foreign Affairs, H.E. Ms. Tanja Fajon, in her official visit, arrived on Saturday in Ho Chi Minh City (formerly known as Saigon). The delegation was organized by the Chamber of Commerce and Industry of Slovenia, the Public Agency SPIRIT Slovenia, the Ministry of the Economy, Tourism and Sport, and the Ministry of Foreign and European Affairs.
On Sunday, the delegation consisting of 15 members, including the VZMD President, Mr. Kristjan Verbič, attended the first official reception and the meeting of the Slovenian Minister, joined by her team and the Ambassador of the Republic of Slovenia to China, H.E. Ms. Alenka Suhadolnik, with the members of the economic delegation. Mr. Verbič took this opportunity to acknowledge the efforts of the Ministry of Foreign Affairs of the Republic of Slovenia in the field of economic diplomacy, as well as Slovenia's candidacy for the non-permanent seat on the United Nations Security Council (UNSC). The elections are scheduled to take place in June. Shortly after, the VZMD President will visit the UN headquarters to attend the World Law Congress as a speaker. In his address last evening, Mr. Verbič highlighted numerous opportunities in the interest of the Republic of Slovenia, including the intense and widespread international activities of the VZMD and its involvement in various prominent organizations and bodies, and reiterated the willingness for a more substantial cooperation of this kind.

The high-profile Slovene-Vietnamese business forum attended by, among others, Mr. Vo Van Hoan, the Vice Chairman of the Ho Chi Minh City People's Committee, the Minister Tanja Fajon, and the Ambassador Alenka Suhadolnik, concluded on Monday in the eminent Park Hayatt Saigon Hotel. As part of the forum, Mr. Verbič presented the efforts and opportunities offered by the international business-investor programs of the VZMD: Invest to Slovenia – investo.si and the International Investors`'Network – investo.international. This morning, the Slovenian economic delegation headed to Vietnam's capital, Hanoi, where the Slovenian Minister and the delegation members were received by the Vietnamese Minister of Industry and Trade, Mr. Nguyen Hong Dien.